---
Rank 12

Postovi: 9733
Pridružen/a: 22 sij 2018, 18:02
Reputation:

2622

Lokacija: Split
Status: Offline
STvarno će ga ovako nazvat
Seth "The Tarpitect" Rollins
---
Administrator

Postovi: 11618
Pridružen/a: 21 stu 2016, 14:00
Reputation:

3841

Lokacija: Nova Gradiška
Status: Online
Meni je okej
"If I was in a hot dog eating contest, I'd win, which is more than you can say about wrestling matches." Kevin Owens to Dolph Ziggler
---
Rank 8

Postovi: 1125
Pridružen/a: 06 ožu 2017, 15:23
Reputation:

422

Lokacija: Odžak, BiH
Status: Offline
Ja osobno volim te numerirane naslove osim XXX
---
Rank 12

Postovi: 9733
Pridružen/a: 22 sij 2018, 18:02
Reputation:

2622

Lokacija: Split
Status: Offline
ante

je napisao/la:

Source of the post

Ja osobno volim te numerirane naslove osim XXX
Seth "The Tarpitect" Rollins
---
Administrator

Postovi: 23301
Pridružen/a: 21 stu 2016, 13:00
Reputation:

5667

Lokacija: Zagreb
O meni: Urednik ProHrvanja i 227gaminga
Kontakt:
Status: Offline
zbilja im sve mora biti first time ever


---
Rank 12

Postovi: 9733
Pridružen/a: 22 sij 2018, 18:02
Reputation:

2622

Lokacija: Split
Status: Offline
Breaking new ground Maggle I love it
Seth "The Tarpitect" Rollins
---
The company got some good news with the on-sale for the Bridgeport Takeover show. While not sold out, the advance for the 7,000 seat set up is strong and it look like it will either sell out or come very close. This would be the first Takeover in a major arena that wasn't the day before a major WWE PPV show. It's selling ahead of the pace of the AEW show in Jacksonville and the New Japan show in Dallas. While AEW Jacksonville isn't a major PPV-level show, it is still the biggest show that the company has tickets on sale for. AEW also doesn't have the whole card. New Japan hasn't announced a card for Dallas, but it is G-1 so you know you're getting at least five major singles matches and every major star in the heavyweight division
WON
---
Administrator

Postovi: 11618
Pridružen/a: 21 stu 2016, 14:00
Reputation:

3841

Lokacija: Nova Gradiška
Status: Online
Card opet izgleda super, ladder meč će nadam se bit izvanredan, a i veselim se Breeze/Dream meču
"If I was in a hot dog eating contest, I'd win, which is more than you can say about wrestling matches." Kevin Owens to Dolph Ziggler
---
AlenB

je napisao/la:

Source of the post

Card opet izgleda super, ladder meč će nadam se bit izvanredan, a i veselim se Breeze/Dream meču
Meni je card na papiru dobar, ali mi je booking dosta upitan. Jedan od lošije bookanih TakeOver cardova nažalost.
---
Rank 6

Postovi: 386
Pridružen/a: 09 stu 2018, 21:09
Reputation:

77

Lokacija: Sarajevo, BiH
Status: Offline
Ima ovaj TakerOver sjajan card. Riddle-Strong bi trebao biti skoro pa odličan match, a repriza Gargano vs Cole je sama po sebi takva čim se događa. Ženski match i North Amercan title match bi trebali biti dosta dobri dočim se ja iskreno najviše radujem Ladder matchu. Tu će biti prejebenih spotova kojih nikad dosta pogotovo u kratkom razdoblju od dva MITB-a. Vidjećemo šta će biti u srijedu pa polako. Inače nisam gledao puno TakeOvera i zato nisam ni pisao o njima. Tek sam nedavno pogledao one iz Phoenixa i New Yorka. Ljetni će biti dan pred SummerSlam pretpostavljam?
---
Uzeleo sam se dobrog wrestlinga, ovo cu sigurno da pogledam. Card mi je, kao i uvek jako dobar.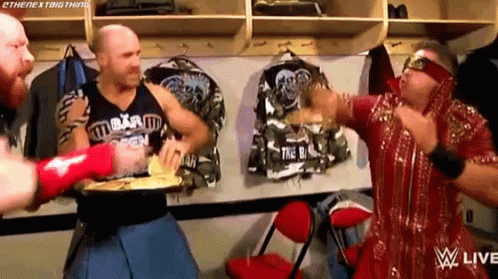 ---
Rank 12

Postovi: 9733
Pridružen/a: 22 sij 2018, 18:02
Reputation:

2622

Lokacija: Split
Status: Offline
Dok traje BoSJ?
Seth "The Tarpitect" Rollins
---
Eumaus The Swineherd

je napisao/la:

Source of the post

Dok traje BoSJ?
E moj Vajpere
Odes pogleds BOSJ ima bar 10 fantasticnih meceva
Pogledas DON od sinoc
Pogledas AJPW Ishikawa vs Miyahara
Eto da ti bude dosta dobrog wrestlinga za 3 mjseeca
---
Administrator

Postovi: 23301
Pridružen/a: 21 stu 2016, 13:00
Reputation:

5667

Lokacija: Zagreb
O meni: Urednik ProHrvanja i 227gaminga
Kontakt:
Status: Offline
jesam ja jedini kojem je ovaj card w/e?
---
---
Online
Trenutno korisnika/ca: Nema prijavljenih korisnika/ca. i 0 gostiju.