---
---
---
Administrator

Postovi: 31668
Pridružen/a: 21 stu 2016, 13:00
Reputation:

8121

Lokacija: Zagreb
O meni: Urednik ProHrvanja i 227gaminga
Kontakt:
Status: Offline
Real World Tag League Teams Announced

Gianni Valletta & Takashi Yoshida (Dragon Gate)
Yoshitatsu & Joel Redman
Violent Giants (Suwama & Shuji Ishikawa)
TAJIRI & KAI
The Bodyguard & Daisuke Sekimoto (BJW)
Zeus & Ryoji Sai
The Bomber (Joe Doering & Dylan James)
The End (Parrow & Odinson)
Kento Miyahara & Yuma Aoyagi
Naoya Nomura & Jake Lee
---
---
---
ProHrvanje Urednik

Postovi: 13798
Pridružen/a: 22 sij 2018, 18:02
Reputation:

4887

Lokacija: Split
Status: Offline
---
ProHrvanje Urednik

Postovi: 13798
Pridružen/a: 22 sij 2018, 18:02
Reputation:

4887

Lokacija: Split
Status: Offline
---
Administrator

Postovi: 31668
Pridružen/a: 21 stu 2016, 13:00
Reputation:

8121

Lokacija: Zagreb
O meni: Urednik ProHrvanja i 227gaminga
Kontakt:
Status: Offline
---
ProHrvanje Urednik

Postovi: 13798
Pridružen/a: 22 sij 2018, 18:02
Reputation:

4887

Lokacija: Split
Status: Offline
Sherpa

je napisao/la:

Source of the post

Miyahara je jedan od podcjenjenih hrvača današnjice. I ne samo on nego i njegov reign, oko kolko je sada? Godinu i pol prvak?
Jep, 495 dana. Vidim da ima i 10 obrana tako da s jos jednom uzima i rekord za najvise obrana u jednom reignu od Kawade.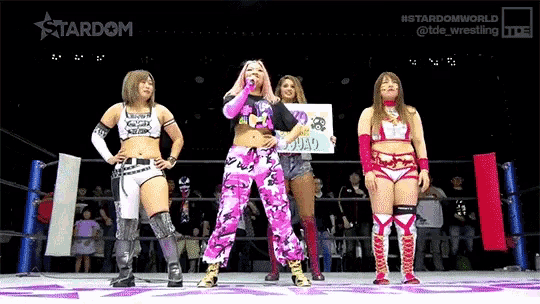 ---
https://headlines.yahoo.co.jp/hl?a=2020 ... oweb-fight
Will a wave of professional wrestling reorganization take place between Japan and the United States? All Japan Professional Wrestling Jun Akiyama (50) has been found to urgently inspect the US "WWE". He will travel to the United States soon and have a meeting with Chief Operating Officer "The Game" Triple H (50). Under the surface of the water, it has also been revealed that the executives of both groups have been in confidential contact several times since last summer, and there is a possibility that a long-established Japanese group that took off in 1972 and the world's largest professional wrestling organization may "blitz". Was.
According to the officials, Akiyama will visit WWE's training center "Performance Center" and also watch a TV match of the brand "NXT". The main purpose of traveling to the United States is to be a guest coach at the Performance Center, coaching wrestlers to become future superstars.
I started with WWE Japan last June. Triple H, who appreciates not only his skills as a player but also his training ability, asked Akiyama to meet and ask if he could consider a guest coach, and WWE executives came to Japan and continued negotiations thereafter. . Akiyama, who was greeted by the Sankei courtesy, also said that he had accepted this year.
秋 Akiyama said in an interview with the newspaper, "I was glad that it was needed in the United States because it was said that in Japan it was handed over to reverse." WWE was the starting point of wrestler life. On April 13, 1990, a junior college student who belonged to the wrestling club, he visited Tokyo Dome, where the all-Japan, WWF (now WWE) and New Japan Professional Wrestling joint-venture "Japan-US Wrestling Summit" was held. This was the first professional wrestling match for Akiyama, and the most impressive were Jumbo Tsuruta, King Haku, VS Rick Martel, and Kurt Henning.
"The scene of Mr. Tsuruta backdropping on Rick Martel was reflected in the Aurora Vision and I was surprised. Without it, I would not have become a professional wrestler. It was a joint show of all Japan and WWE, This time I remembered it, it's strange. "
In the future, I may visit the site regularly as a coach, "I want to feel how WWE is doing. I do not know what will happen in the future, but look at the world's best wrestling organization It will be a study and there may be new discoveries. "
Most notably, a direct talk with Triple H, who has a strong influence inside and outside the WWE ring, is scheduled. According to a source mentioned earlier, since June last year, WWE executives who have visited Japan have provided a place for discussions with all Japanese executives, and the two groups have come close together. In an interview last year, Triple H, who manages NXT, acknowledged the possibility of launching "NXT Japan" in 2020, and intends to cooperate with Japanese organizations to establish a new organization.
Google translateo sam pa vjerovatno ima dijelova koji nemaju smisla, ali izgleda da WWE i AJPW možda započinju partnerstvo.
---
ProHrvanje Urednik

Postovi: 13798
Pridružen/a: 22 sij 2018, 18:02
Reputation:

4887

Lokacija: Split
Status: Offline
---
---
ProHrvanje Urednik

Postovi: 13798
Pridružen/a: 22 sij 2018, 18:02
Reputation:

4887

Lokacija: Split
Status: Offline
---
Do All Japan Pro-Wrestling and World Wrestling Entertainment (WWE) team up? The reputable magazine Tokyo Sports reports today that the two leagues could merge.

It has long been known that WWE is trying to gain a foothold in Japan. In addition to occasional shows a year, the league is planning to establish a permanent branch in Japan, similar to how they did with NXT UK in the UK. It is certain that an attempt was made to buy Stardom when the league was on sale last fall. The same applies to pro-wrestling NOAH, which were surprisingly sold to Cyber ​​Agent earlier this year.

Yahoo! Japan also reports that Jun Akiyama will shortly travel to the US to meet with Triple H there. At the moment it is officially said that Akiyama will visit the Performance Center to work as a guest trainer. In fact, there have been discussions between the league officials since June 2019. It could be a merger of the largest wrestling league in the world and the second oldest Japanese league!

In the newspaper interview with Yahoo! Japan informed Akiyama that he has a very special relationship with the WWE. In 1990, when he was still an amateur wrestler, he attended the Tokyo Dome Show by NJPW, AJPW, and WWF. He particularly remembered the Tag Team Match with Jumbo Tsuruta on one side and Rick Martel on the other. He now wants to give regular guest training sessions in the Performance Center and learn how things work at WWE.

All Japan President Takeshi Fukuda said that he was pleased that All Japan was valued worldwide and that the invitation to Akiyama underlined this. However, no decisions have yet been made about future cooperation with WWE. He hopes that the upcoming visit will have a positive impact on both groups.

Yahoo! Japan concludes its report, noting that a merger of the two leagues would lead to immeasurable profits and that a third power would emerge in Japanese wrestling alongside Bushiroad (NJPW and Stardom) and Cyber ​​Agent (NOAH and DDT).

PuroLove
---
---
Online
Trenutno korisnika/ca: Nema prijavljenih korisnika/ca. i 2 gosta.